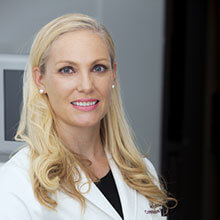 Dr. Laura Rubinate, DO is an ophthalmologist board certified by the American Board of Ophthalmology and licensed by the Texas Medical Board. She is originally from Philadelphia, and received her undergraduate degree from Cornell University in Ithaca, NY. She then worked as a scientist at GlaxoSmithKline Pharmaceuticals, while pursuing a graduate degree in Pharmacology from Thomas Jefferson University in Philadelphia. After 3 years in research and development, she attended medical school at Nova Southeastern University in Fort Lauderdale, FL, receiving her medical degree in 2008.
She then entered the military and completed her transitional internship at Brooke Army Medical Center (BAMC) and Wilford Hall Medical Center (WHMC) in San Antonio as an Active Duty Army officer, followed by a residency in Ophthalmology at BAMC & WHMC.
She was then an active duty Army staff physician at William Beaumont Army Medical Center in El Paso, TX from 2012-2014 and subsequently at BAMC from 2014-2016, when she was honorably discharged from the Army and joined our practice.
Dr. Laura Rubinate has received broad training in refractive surgery including PRK, LASIK, and Visian ICL implants during her time in the military. She has done research on treatments for ocular burns, glaucoma shunt surgery, as well as a study on keratoconus diagnosis and links to sleep apnea. She attended a surgical mission trip to Peru and performed many pterygium surgeries as well as aided in cataract diagnosis and surgery amongst the population near Ica.
She enjoys performing small incision sutureless cataract surgery, sutureless pterygium surgery, toric and multifocal lens implants, all types of refractive surgery as well as eyelid lift surgery to help people see better. She also performs Botox and fillers. She is an avid equestrian and rides & competes show jumping horses regularly in her spare time.