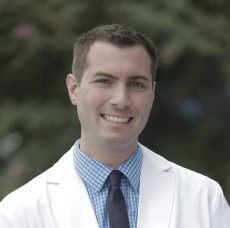 Dr. Lehr is a residency trained Therapeutic Optometrist and is a certified Optometric Glaucoma Specialist. He is a native Midwesterner from Sioux Falls, South Dakota and completed his bachelor's degree in Biology from the University of Nebraska at Omaha. The University of the Incarnate Word brought Dr. Lehr to San Antonio for his Optometric education where he completed externship rotations through the VA and a large disease and surgery practice. During his education he was invited into the Gold Key International Optometric Honor Society and awarded membership into the Beta Sigma Kappa International Optometric Honor Society.
After graduation, he was accepted into a challenging residency through the University of Houston, where he specialized in Ocular Disease and Surgical Co-Management. Dr. Lehr was thoroughly trained in diseases of all parts of the eye, including dry eye and corneal disorders, glaucoma, retinal diseases, and cataracts. He also received comprehensive training in pre- and post-operative management of many different surgeries of the eyes and surrounding structures. Throughout his training, he has assisted in research, presented cases at national meetings, and helped train students.
When he is not in clinic, Dr. Lehr enjoys traveling, watching/playing hockey, and spending time with his wife.
Dr. Lehr looks forward to caring for you and your family members with his dedicated service and passion for patient care and education.