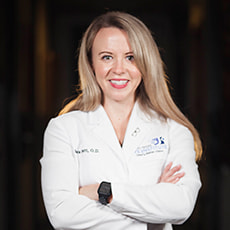 Sara Hyatt, O.D. Therapeutic Optometrist licensed by the Texas Optometry Board with certification as an Optometric Glaucoma Specialist. Dr. Hyatt is originally from Tennessee where she completed her undergraduate degree in Biology at East Tennessee State University. She furthered her education by obtaining her optometry degree from Rosenberg School of Optometry in San Antonio, Texas.
During her optometric training, she gained experience by rotating through private practice, low vision, BAMC and the Salem VAMC. Upon graduation Dr. Hyatt was awarded the William Feinbloom Low Vision Award.
After graduation Dr. Hyatt continued her training by completing her residency at Salem VA Medical Center in primary care/ocular disease in Salem, VA. Her residency training provided a multitude of experiences in diagnosing and managing multiple eye conditions from dry eye, glaucoma, age related macular degeneration, diabetic eye disease and neurological disease.
The program emphasized interprofessional relationships and care. This program allowed Dr. Hyatt to spend time rotating through various specialties at the hospital. Learning from physicians who specialize in different practices allowed for a unique experience and a more rounded approach to eye care. During residency Dr. Hyatt had the opportunity to present case reports at the American Academy of Optometry's annual meeting.
Dr. Hyatt enjoys seeing a variety of eye conditions and is passionate about patient care however when she is not in the clinic she enjoys traveling, hiking and spending time with her husband and their two dogs, Tia and Cammie.