How Much Does LASIK Cost in San Antonio?
Patients wanting to improve their vision with LASIK surgery or PRK usually have two issues that worry them and can cause hesitation.
Some patients are anxious about the safety of the procedure. Once they find out how precise and effective LASIK surgery really is, and how it will improve their life, those worries dissipate.
The other major worry is how to pay for LASIK surgery. If you have been considering LASIK, South Texas Eye Institute has a number of options to make LASIK affordable for you.
LASIK Cost Calculator
How much would you save over the course of your life by getting LASIK Surgery? Use this calculator to get a rough estimate and find out.
* Estimated savings represents the amount saved by not wearing contact lenses until age 65, based on your age and average monthly expense on contact lenses.
---
Transparent Pricing
The professionals at South Texas Eye Institute understand the significance of this decision, and want to make improving your vision and your life as affordable as possible. That's why we offer multiple payment options for everyone who wants to have LASIK surgery.
At South Texas Eye Institute, there are no hidden costs or fees. If you have laser eye surgery performed by our team – the evaluation, procedure, and a year of post-operative care are all included in the final price.
Special Benefits and Promotions
We offer student and military discounts.
South Texas Eye Institute also offers time-sensitive promotions towards LASIK surgery. Please contact us to learn more.
If you are considering LASIK surgery, contact us today to let us help you devise an affordable way to make your dream come true.
Financing LASIK Surgery
Affordable LASIK surgery is available in San Antonio. Thanks to the advancements in technology and techniques, the cost of LASIK has decreased over the years. It is now affordable on almost any budget.
Furthermore, low cost monthly payment plans are available. You can have LASIK today, and pay for it tomorrow. We have partnered with two financing institutions to give you even more choices.
The Wells Fargo Health Advantage Credit Card. This revolving line of credit can be used over and over again.
Care Credit is a medical financing company that offers excellent benefits, including no prepayment penalty and 0 percent interest for 12 Months.
You can pay for LASIK with cash, check, and most major credit cards. Additionally, you can combine these methods with our financing options to suit your needs.
Flexible Spending Accounts
Many employers sponsor a government plan that allows you to set aside tax-free money for eligible health services, including LASIK. Since these dollars are deducted from gross salary before taxes, you can reduce your tax burden as you pay for your surgery.
Many patients take advantage of Flexible Savings Accounts to afford LASIK surgery as well as to pay for other healthcare services. Speak to your HR coordinator to determine your benefits and dates of eligibility.
Health Savings Accounts
Known as HSAs, these are tax-free savings accounts that you can use for health services with no deadlines. As of this date you are only eligible to sign up for an HSA if you have a high deductible insurance plan.
Save Over the Long Term
Learn more about the cost of LASIK compared to contacts and glasses by reading the infographic below: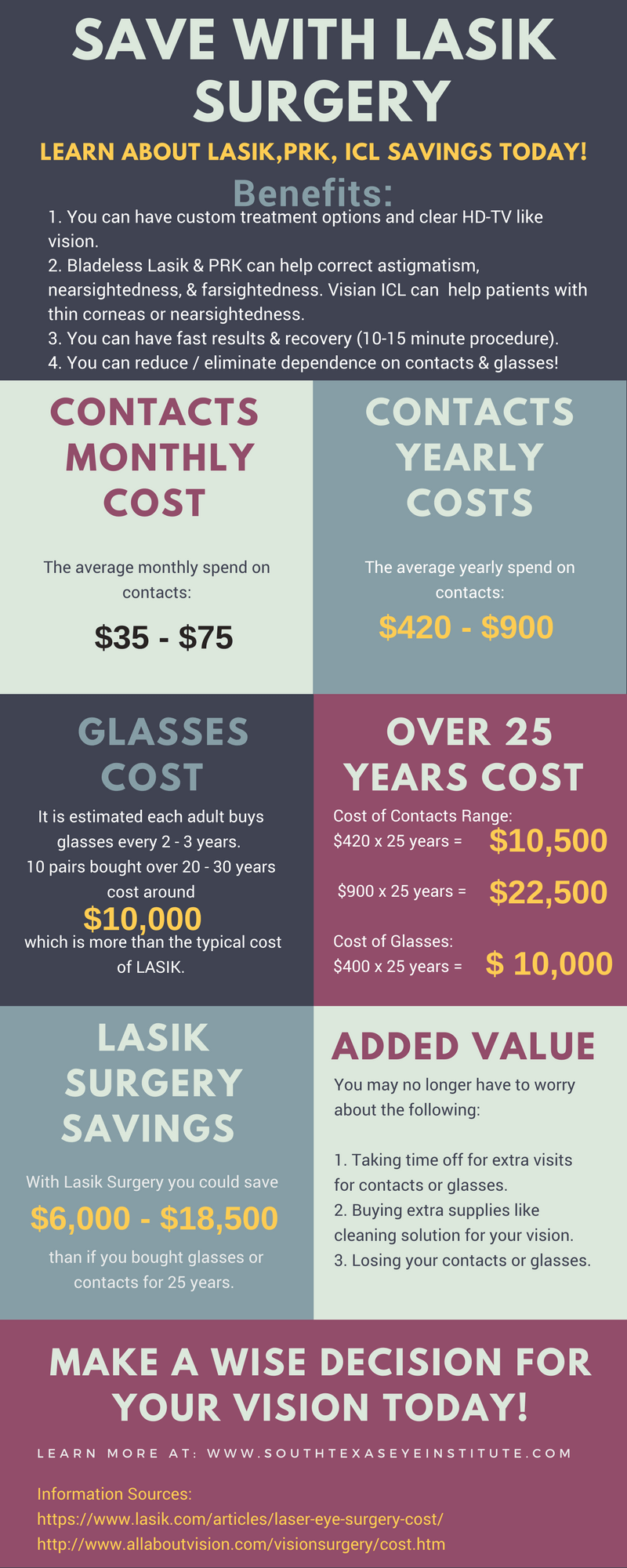 ---
Find out how LASIK can change your life – and save you money in the long run.