Laser vision correction using the excimer laser takes place after a flap is created. By utilizing the bladeless IntraLase system South Texas Eye Institute gives its patients the safest, thinnest, and most precise flap possible.
With this blade-free technology, there are fewer complications and less dryness after surgery. Combined with the WaveScan 3-D map of a patient's eyes, the results are more precise and provide a better quality of vision after surgery.
Cutting-Edge Laser Vision Correction Technology in San Antonio
A leading facility for laser vision correction in San Antonio, South Texas Eye Institute uses the latest in refractive surgery technology to treat its patients.
Whether you require IntraLase® custom LASIK or ICL surgery, you can count on South Texas Eye Institute for high-quality laser vision correction. We are totally dedicated to exceptional patient care.
VISX® STAR S4 IR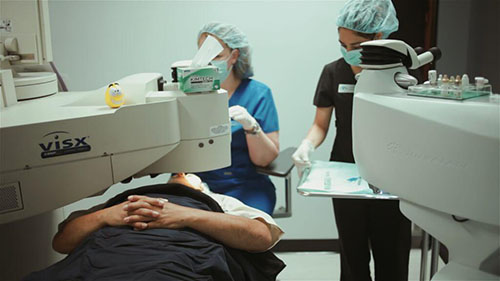 The VISX® Star S4 IR laser is a state-of-the-art, revolutionary tool designed for use in performing CustomVue™ LASIK. The Star S4 IR is equipped with 3D eye-tracking, Wavefront™ capabilities, and precision optics, all of which allow us to achieve outstanding, accurate results.
The laser, which is FDA approved, permits personalized treatment for the removal of minimal amounts of tissue, making it one of the safest tools available for LASIK surgery today.
To learn more about the VISX® Star S4 IR laser, please contact our laser vision correction office in San Antonio.
The WAVEPRINT™ System – Personalized Laser Vision Correction
South Texas Eye Institute is a full-service ophthalmic office. Refractive surgery procedures are accomplished within the facility with the latest in excimer laser techniques – the VISX® Waveprint™ System. With this system, called CustomVue™ LASIK, a precise and more detailed analysis of one's vision can be produced, allowing for personalized laser vision correction.
Now, for the first time, the Waveprint™ Map provides information on more than just the corneal surface. It reveals the way the entire optical system processes light.
This customized laser refractive technique not only offers greater refractive precision but with the more detailed information that was previously unobtainable, it can produce better vision than is possible with contact lenses or glasses.
The Waveprint™ Map is the gold standard in vision measurement. Anyone who is considering laser vision correction should visit our San Antonio office and obtain a Waveprint™ Map as the first step.
Not everyone needs or is able to have CustomVue™ LASIK. The treatment plan should be personalized to each individual's unique vision.