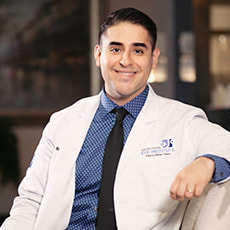 Alexander Martinez, O.D. is a Therapeutic Optometrist licensed by the Texas Optometry Board. Dr. Martinez was born and raised in San Antonio, Texas. He graduated with honors from both his undergraduate degree in Vision Science from the University of the Incarnate Word followed by his optometry degree from the University of the Incarnate Word Rosenberg School of Optometry located in San Antonio, Texas.
During optometry school, his internship rotations included a private practice in San Antonio and the McWethy Troop Medical Clinic in JBSA-Fort Sam Houston. His internship rotations focused on ocular disease ranging from diabetic retinopathy, glaucoma, age related macular degeneration, uveitis, and more. As a student he was involved in participating in vision screenings, tutoring and as an after school teaching assistant. Dr. Martinez had the distinction of graduating in the top ten of his graduating optometry school class.
Upon graduating from optometry school, Dr. Martinez completed a residency in Primary Care with an emphasis in Ocular Disease from the University of the Incarnate Word Rosenberg School of Optometry. His residency training involved rotations in ocular disease with a corneal specialist, retinal specialist and glaucoma specialist. Along with rotations in a specialty contact lens clinic and primary care clinic.
Dr. Martinez has had the opportunity to present case reports at the American Academy of Optometry meeting, Texas Optometric Association Convention, ZEISS grand rounds, and multiple continuing education courses.
Dr. Martinez is very passionate about providing compassionate patient care at South Texas Eye Institute and is excited to meet his patients. His goal is to listen to each one of his patients carefully, address their concerns and discuss their eye exam findings so they leave our clinic well informed.
When not in clinic you can find Dr. Martinez spending time with his family, cooking and exploring new restaurants.