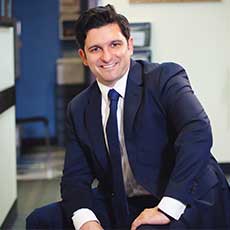 Nikhil Godbole, D.O. is Board Certified by the American Board of Ophthalmology with an interest in medical retina for the treatment of macular degeneration and diabetic associated retinopathy. He is trained in advanced techniques in management of glaucoma and cataracts to include Minimally Invasive Glaucoma Surgery (MIGS) at the time of cataract surgery and laser assisted cataract surgery with multifocal lens implants. He also preforms Oculoplastics procedure to include Botox injections, blepharoplasty, fixing eyelid malposition and chalazion excisions.
Dr. Godbole received his undergraduate degree from Siena College in upstate New York. He earned his Medical Degree from the West Virginia School Osteopathic Medicine. He completed his internship and Ophthalmology residency at Madigan Army Medical Center in Tacoma, WA. Dr. Godbole has experience as an Ophthalmologist at a large Level 1 trauma and burn center. He serves as faculty at the San Antonio Uniformed Health Science Education Consortium Ophthalmology residency where he was named Surgical Educator of the year for 2020. Dr. Godbole has an interest in humanitarian work and has participated in missions to Panama.
Prior to medical school, Dr. Godbole played Division 1 tennis for his university and was a tennis instructor for 10 years and coached high school tennis during medical school.