Are your glasses scratched, damaged, or old? Do you find you have to wiggle them around when you wear them because they no longer fit snuggly?
If your glasses won't stay up on your face or you can barely see when you wear them, they aren't doing you much good. The better question is, when was the last time you got new glasses?
Many people keep the same pair of glasses yearly and use an outdated prescription rather than buying new ones. But purchasing new glasses doesn't have to be a hassle.
If you go into the process and know what you want, picking out and buying a new pair of glasses can be easy and even fun. If you have no idea where to start when getting new glasses, it's helpful to know a few things to make the process as easy as possible!
Keep reading for eyecare tips and tricks to prepare before buying your next pair of glasses!
Get an Eye Exam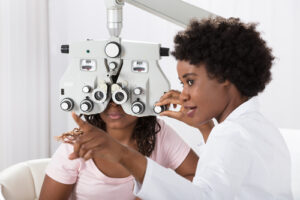 Before you can even think about buying a new style of glasses, you need to get an eye exam. An eye exam every year is necessary if you regularly wear glasses and contact lenses.
During your eye exam, you'll have the opportunity to get your prescription updated. Don't remember the last time you had your eyes checked?
That's a good sign that it's been too long since your last one! Although you can get new glasses without an eye exam, you're much better off getting your eyes thoroughly checked before doing anything else.
Not only do you need an updated prescription, but you can also make sure your eyes are healthy with a comprehensive exam. A complete exam is essential if you're over 40.
Even if you're younger than 40, you should still have a comprehensive eye exam every few years. Don't forget to have your visual acuity tested at least every year too!
Figure Out Your Budget
After you've scheduled your eye exam, the next thing to do is figure out your budget. It won't do you good to look at glasses out of your price range.
Do yourself a favor and calculate your budget before you start shopping. Glasses can be pricey, but you can save money in several areas, especially if you have vision insurance.
Insurance plans often cover a new pair of glasses up to a certain price every year. Even if you have an insurance plan that covers a certain amount, you may also be able to afford a little extra.
You can also factor in if you want a pair of designer glasses or special features. Assume that any coatings like anti-glare or blue light are not included in the base price of your frames.
Just be sure to figure out what you're willing to spend and make a price range you plan to stay within. Not only will this help you stay within your budget, but it'll simplify the process by eliminating glasses that fall outside what you can afford.
Know Your Face Shape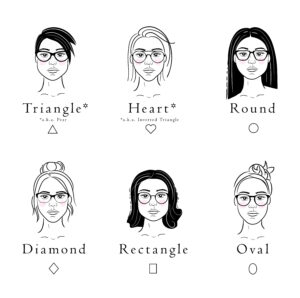 When it comes to picking out glasses frames, it's beneficial to know what your face shape is. The shape of your face goes beyond round or oval.
When buying new glasses, knowing your exact face shape will help you find the best frames that suit your facial symmetry. If you're unsure, you can look up charts and compare your face to the most common face shapes.
The most common shapes are round, square, oval, and heart. You may also have a less common face shape like a triangle or rectangle.
No matter what kind of face you have, you can make various styles work. But knowing what goes well with your face shape can be an excellent place to start if you don't know what may suit your features best.
To look your best, you want glasses contrasting with your face shape. Rounder glasses may suit you best if you have a square face with angular features.
If you have a round face, bold, square and rectangular frames may look best. You don't necessarily have to restrict yourself, but knowing what can and may not work can help you narrow in on the right frames for you.
Have an Idea of What You Want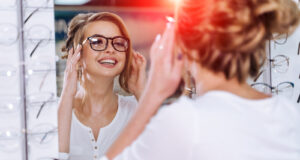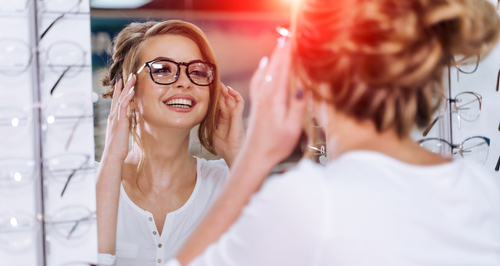 In addition to knowing your face shape and what works best for your face shape, you should also have an idea of what kind of glasses you want. Do you like thick frames or glasses with thin, metal frames?
Do you prefer frameless glasses? What kind of colors do you like?
It may seem obvious, but knowing what to look for can help you get started. Buying glasses becomes much easier if you factor in what kind of frames work best for your face shape.
Research Extra Features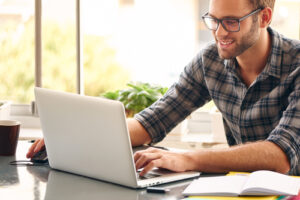 When you buy glasses, there are what seem like endless extra features you can get. These may include anti-glare, anti-scratch, transition lenses, and other features.
Before you go glasses shopping, do some research and find out exactly what each feature does. It's easier to determine what extra features you need before choosing a new pair of glasses.
Making on-the-spot decisions with a technician introducing you to these features may make you feel rushed. You also should find out what these extra features tend to cost to factor them into your budget ahead of time.
Ask About Alternatives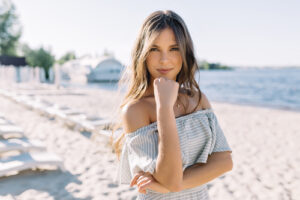 Do you need a new pair of glasses but want to know about other options? There are alternatives!
Maybe you want to try some contact lenses. If contact lenses aren't for you, perhaps you want to consider a vision correction procedure like LASIK.
At South Texas Eye Institute, you can learn everything you need to know about LASIK, including if you're a good candidate. There's nothing like achieving visual freedom!
Want to learn more? Schedule your appointment at South Texas Eye Institute in San Antonio, TX! With summer on the horizon, it's the perfect time to get a fresh new look!