5 QUESTIONS TO ASK AT YOUR
LASIK CONSULTATION
Below is a list of common LASIK questions we receive at South Texas Eye Institute that may help you make an informed decision. Be prepared for your LASIK consultation by checking out our infographic and blog post below on questions to ask during a LASIK consultation.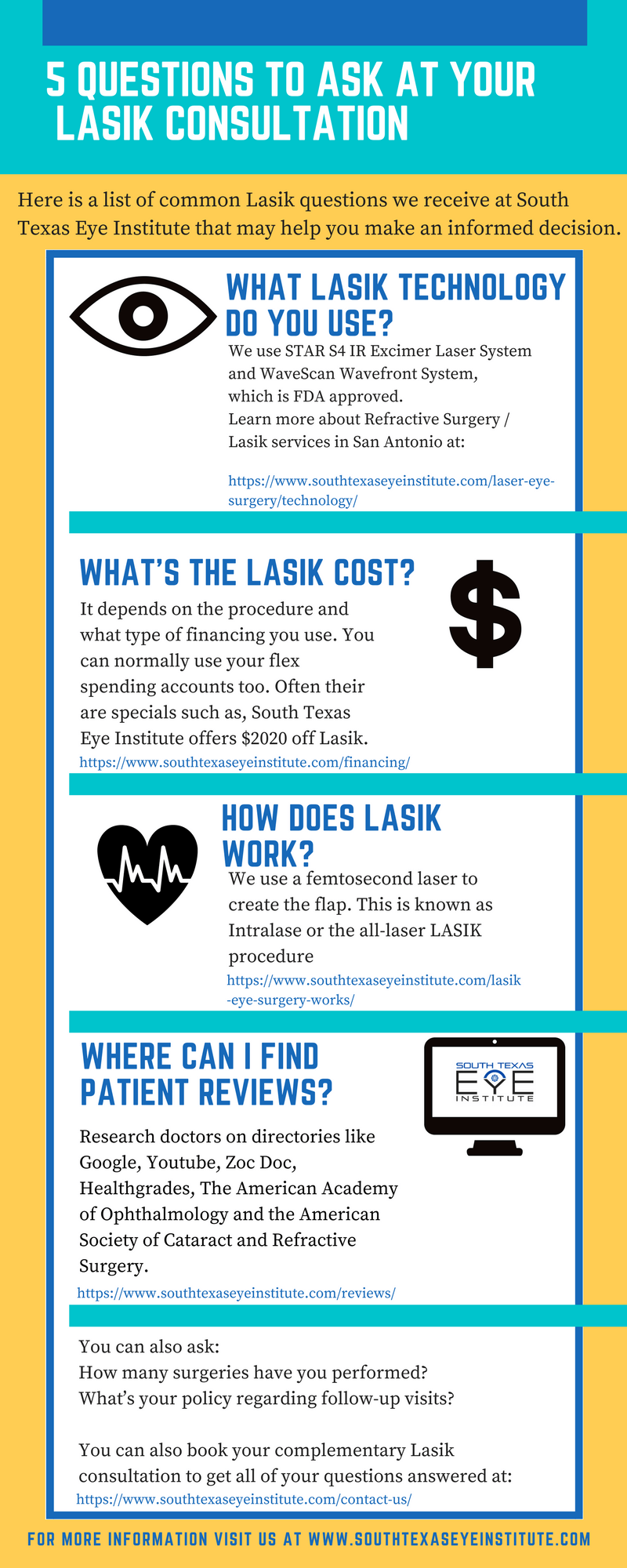 1. WHAT LASIK TECHNOLOGY DO YOU USE?
We use STAR S4 IR Excimer Laser System and WaveScan Wavefront system, which is FDA approved for our lasik technology.
2. WHAT'S THE LASIK COST?
It depends on the procedure and what type of financing you use. You can normally use flex spending and HSA and other corporate plan accounts too.
Often their are specials such as, "South Texas Eye Institute offers $2020 off Lasik."
3. HOW DOES LASIK WORK?
We use a femtosecond laser to create the flap. This is known as Intralase or the all-laser LASIK procedure.
4. WHERE CAN I FIND PATIENT REVIEWS?
Research doctors on directories like Google, Youtube, Zoc Doc, or Healthgrades.
5. You can also ask your LASIK eye doctor and LASIK coordinator:
How many surgeries have you performed?
What's your policy regarding follow-up visits?
Special Offer: Mention Blog2020 to save $2020 on blade-free IntraLase® Lasik.
You can also book your complementary Lasik consultation to get all of your questions
answered.
Contact our  San Antonio office today to book your complementary LASIK consultation.